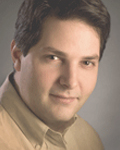 Joe Presto
Founder
In 2004, Joe Presto ventured out of the corporate realm and his job at IBM Global Services to start Desktop Guerrillas. His goal was to fill the niche between the geek/nerd home service organizations and the larger consulting firms, whose high-priced consultants and hefty monthly maintenance fees are often out of reach for small businesses. With half a dozen certifications under his belt, and an industry-leading remote support system, he was soon acting as a virtual IT department for many leading businesses in the Fairfield County area.
Joe's prior experience, including 8 years at IBM, provided him with the breadth of skills and business know-how to make Desktop Guerrillas a success. As part of IBM's "Universal Management Infrastructure" core architecture team, he developed an automated management system for the corporation's global customer set. He also worked in the network security and web hosting divisions, and forged partnerships with industry leaders for VPN, co-location, and online gaming infrastructure offerings.
Along with an Economics Degree from the University of Pennsylvania, Joe holds the following certifications:
Microsoft Certified Professional
Certified Wireless Network Administrator
Microsoft Office Specialist - Master Level
CompTIA A+
CompTIA Linux+
CompTIA Security+
CompTIA Network+
Joe is a member of several local business organizations, including the Norwalk Chamber of Commerce and the Connecticut Technology Council.